Escape Room Team Building Activity Fresno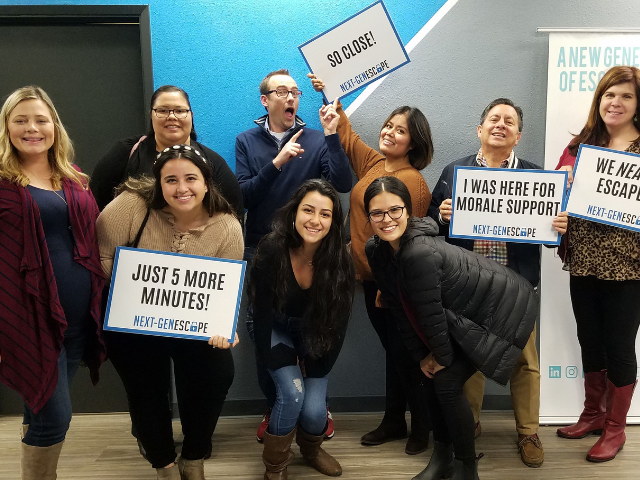 FRESNO TEAM BUILDING
Looking for fun team building events in Fresno?
Want to treat your staff with a fun adventure?
Be the office hero and take your organization out for an unforgettable off-site escape!
Reach out Today!
FAQS
WHAT TO EXPECT

Escape Rooms are a fun and engaging way to bring your team closer together. While playing the game your team will have to work together, communicate, and use critical thinking skills all while running against the clock!
What makes Next-Gen different?

If you are looking for deeper team enrichment we offer two workshops that focus on Leadership and Communication skills, and how the escape room experience relates back to the workplace. If you are looking for something better than bowling you are in the right place!

Of course, the workshops are optional, and most team building events don't reserve them unless they have specific outcomes in mind for their team
What time can your team be scheduled?

We are flexible based on our client needs! Whether it's early morning or after-hours we can make it work.
How far out do I need to make the reservation?

We recommend reaching out 2 weeks in advance to find the most optimal experience. We can book the same week if necessary, though we typically have far less availability.
Where do we get started?

Contact us with any inquires! Once we better understand your team's needs we will send a shareable no-commitment proposal if necessary.
I'm from a school or nonprofit and cannot pay for a deposit.

Frequently working with schools means we understand the need to process payment after the events, sometimes up to weeks at a time until we receive payment. As a small business this can be a dangerous thing to juggle, but one we are willing to make in special circumstances.
What about having an escape at the office?

We now offer play-at-office escape rooms which can be played in any conference room! Visit our Escape Crate page to learn more or give us an inquiry!